Using the most modernized project management tools, we analyze every step at each stage of the process. We share daily and weekly reports with our clients to ensure they are as much a part of decision-making as we are. The project breakdown goes as follows:
POST YOUR PROJECT REQUIREMENTS
Based on your project requirements, we assign you the best-suited experts and resources with experience.
DISCUSS PROJECT DETAILS WITH OUR ANALYSTS
The analysts assigned for your project require your assistance in paving the best way to conduct your project.
CHOOSE ENGAGEMENT TERMS & TIMELINES
Every step of the project is paved beforehand with mutually agreed terms and deadlines, so are no delays.
SECURELY PAY ONLINE AND GET STARTED!
No hassle of cash transactions, as our secured online system eases the process for and our team initiates works immediately.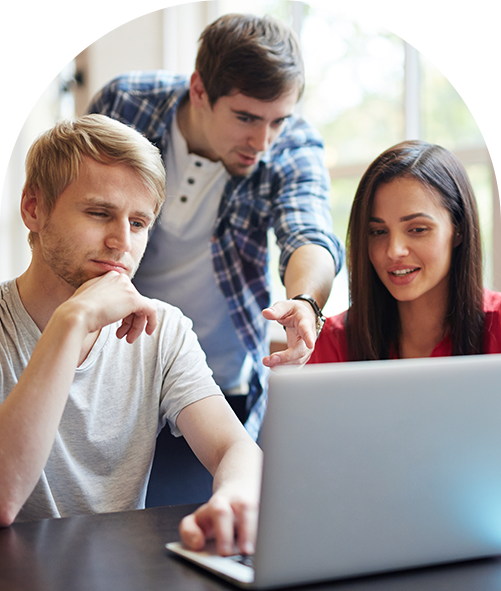 DEFINING BUSINESS AND PROJECT EXECUTION.
We started with the aim of integrating technology with business because we envisioned a more efficient way of business conduction. With the provision of the latest software, web, and IT solutions and products, we empower entrepreneurs and enterprises to go after their most far-fetched goals. Our client success stories encourage us to propel further into corporate technological assistance. Whether it is the development of a mobile app or a software package, we survey the latest innovations in the industry and understand the requirement of the modern age before starting the process of product development.
Since 2018, Lacewingtech has aided businesses and enterprises with their software and web development projects while respecting their budgetary confinements. We hire experts who are savvy in tech as well as business, to ensure web development and IT consultancy are going together hand in hand. When we part ways with our clients, they feel more equipped and confident in exceeding industry standards.
If you do not plan, you plan to fail.. Lacewing understands this better than anyone and has devised ingenious delivery models whose specifications ensure a standard workflow. Clients have flexible choices and Lacewing can cater a diversified portfolio of them!
With a variety of clients; from entrepreneurs to SMEs, we take care of every client and his needs and our dynamic pricing models accommodate every company's targets. We understand the difficulties that our clients face and we provide prices based on:
We work closely with our clients and immerse ourselves fully as their own IT team. This ensures that they can always reach out to our experts with just one call and get their needs catered! We have a dedicated team that enables us to fully stay in touch with our clients and help them understand the best methodologies and tricks, helping them stick on top of their market.
Don't hesitate to contact us
Write to us
lacewinginfo@gmail.com
Office hours
Mon-Sat 9:00 - 7:00